With the use of a systematic online examination system, it has become very easy for an organization to carry out periodic and continuous assessments. It helps them to save both time and money and yet provides a good tool to continuously assess the knowledge of students.
Features of a Good Online Examination System 
Authoring of question items
20+ Question types
Supports Latex/formula
Supports numerous languages
Arrange in modules/papers
Distribution of questions 
Question & option jumbling
256-bit encryption
Items exposed only 30 min before exam
LAN / Online options
CCTV & Biometrics
Secure Browser to lock PC
Post Exam item performance
Applicant Scores & Calibration
Compile Scores & Merit lists
Assurance of data security
5-minute interval backup
Audit trail & RTI compliant
Scalable & Reliable
Our online assessment engine is made for large universities and their needs. From LDAP / LTI integration with other existing systems to Remote proctoring we have it all covered.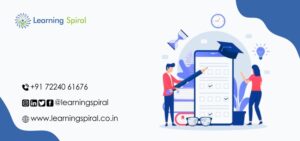 Our Online Examination System: UCanAssess 
Our online examination system meets demanding high stake exam criterion. From scalability, disaster management to fault tolerance we have you covered. The application supports question item and response level encryption even while adhering to international QTI specification for question item storage.
UCanAssess is a robust and highly secured online examination system developed by Learning Spiral. It has been used for conducting various
National level online entrance examinations
Online recruitment examinations for institutes of high repute
Central and state universities.
Why Universities Choose UCanAssess?
Our online examination system also allows assessments to be evaluated in less time.
Multiple numbers of candidates can complete their examination at the same time and there is no requirement for physical faculty for monitoring due to the use of remote proctoring.
The test takers can take the assessment or examination by logging into the online examination system during class or at home with the use of their own devices.
They also get the opportunity to see their results and answers as instant feedback about their knowledge or understanding of their chosen topics.
A modern online examination system is thus a critical tool for universities or colleges to assess and improve student outcomes.
Modern Infrastructure
Our applications are powered by amazon web services – The world's most reliable cloud service. These are the same services that power Facebook & Twitter.
We provide world-class disaster recovery security & scale-ability.
About Learning Spiral
Learning Spiral which was formed with a vision to provide services and solutions geared towards effective management of applicant and online examination system. Our products help power many leading universities, recruitment boards and other assessment bodies. Every year it helps process more than 10 million assessments for various clients like BHU, Makaut,  Jamia Millia Islamia University, Tamil Nadu Public Service Commission (TNPSC) etc.
Features of Online Examination System