Know about our online examination system: UCanAssess
Our online examination system: UCanAssess is one of the most effective assessment platforms. With the proper use of a systematic online examination system like UCanAssess, it becomes very easy for educational institutes and test conducting organizations to carry out periodic and continuous online assessments. It helps our clients to save both time and money and yet provides a good system to continuously assess the knowledge of students and employees alike.
UCanAssess is a robust and highly secured online examination system. It has been used for conducting various online exams for both Central and State universities, All India National level online entrance examinations and also Online recruitment examinations for corporates.
Currently, due to pandemic examinations can't be conducted through pen and paper mode but at the same time education & examinations cannot stop. Hence the shift to the digital domain is highly necessary for Universities and other test conducting bodies.
Data Security : Online examination system ensures safe and secure data storage. Our products like SmartExam, Online Examination System help to secure the data related to students, examinations, question items and results.
Cost-Effective: There is no doubt that online exams usher in advantages of cost-cutting as it saves time, money and efforts involved in travel and provision of centre facilities. Stationery is saved too. These are quick and simple as compared to the traditional exam method using pen and paper.
Helps to reduce administrative work: There are many administrative tasks from admission to results that get difficult to manage manually for big institutions. This process is very time taking. Online examination system streamlines this process and makes it easier to manage. And very little human involvement is necessary. Organizing and running exams online not only reduces an organization's administrative burden but also saves cost and time.
Prevent Cheating in online exams: A major hurdle faced during online exams is cheating. Hence, to avoid cheating we at Learning Spiral combine several well-known technologies. Remote Proctoring, AI based anomaly detection, Secure Browsing, Remote Candidate Authentication, Live proctoring, and Record and Review Proctoring, etc. These technologies have become a popular digital solution for holding credible online assessments with automated and live violations monitoring. After using these technologies there can be significant reduction in cheating as compared to other means of taking tests remotely. Thus, an online examination system with an online proctoring system helps to hold fair online exams.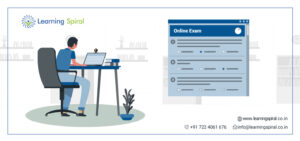 The scope of secure online examinations is expanding day by day. With the rise of online exams, various technological advancements have also occurred. You can set any type of questions including subjective questions and MCQ based questions.
An Online application engine and Online examination system are important in today's times. Learning Spiral, an online examination solution provider offers services and solutions geared towards effective management of applicants and an online examination system. Their products like UCanassess, SmartExam including UcanApply power many leading universities, recruitment boards and other assessment bodies. Our products can also help meet your needs for a comprehensive Online Examination System, University Management System or University Examination System etc.
SCOPE OF ONLINE EXAMINATION SYSTEM